Project in 2017

Community Art between Aceh and Japan
guidebook
Aceh-Japan Community Art Project 2017
Both of area in Aceh and Tohoku (Japan) were similarly faced terrible natural disasters of earthquake and tsunami. It was happen in 2004 in the sea of Sumatra and in 2011 in sea of eastern Japan. As a non-profit institution called as Chikyuu Taiwa Labo, we had managed many events in both countries starting from 2013. The events were based on a perception that the disasters happened not only left the loss for the land, but also shared the pains and experiences. Those feelings are expected to be felt together, so it triggers the new insight towards improvement and advancement. Regarding to that thought, in this year, we held an activity termed as the Aceh Community Art Project, which is collaborated with various parties.
Establishing an art community is a way of constructing togetherness and visualising existing social problems in the form of art. Having a background of the condition against the post-natural disaster and tsunami in Japan, we would like to organise the Aceh Community Art Project on December 2017 in Aceh, which also experienced the same catastrophe. The activity is planned for 3 years, starting from 2016 to 2019 considering the 15th anniversary of the earthquake and tsunami in Aceh.
Furthermore, in doing so, four of the consortium members from Aceh came to Tohoku on August 2017. They did a series of activities such as visiting to several elementary schools, residences of tsunami victims, social services, local festivals, and other related projects.
However, although the participants and the hosts have different language and culture, they could find valuable experiences through this exchange programme. The experience is needed to realise and to establish the goals of constructing many positive things against the disaster area in the future.
Organisers: NPO The Laboratory for Global Dialogue, Aceh Community Art Consortium
Co-host of "Flashback on the Spot": Banda Aceh city mayor Office, Banda Aceh city house representatives office, Indonesia hotel & restaurant association Banda Aceh office, Indonesia Air Transportation & aviation Association, Hermes hotel Banda Aceh, Country Steak House, Canai Mamak Kuala Lumpur, Incognito
Co-host of "Sakura 3.11 Project": Exective Committee of Sakura 3.11 Project, General Incorporated Art and Public Association, General Incorporated Association MMIX Lab
Funding: Japan Foundation, Tokyo Foundation, YS Community Foundation
Supporter: The Association of Education of Higashimatsushima City
Partnership: Dinas Pariwasata Aceh (the Tourism Office of Aceh), KSA (Kougetsu School Association), TPMT (Taman Pendidikan Masyarakat Tanyoe), SD Negeri No. 31 Banda Aceh, Aceh TV, SD Miyanomori Higashimatsushima, citizens of Miyato City, Hamaritugao Ambassador, SD Yotsukura Iwaki, the Association of Himawari (Asuto Nagamachi Sendai City Revival Neighbourhood Community Association), NPO Community Art Funabashi, General Incorporated Association Art Inclusion, and General Incorporated Community Art Lab
New Information
Nov, 2017

Guidebook of Aceh-Japan Community Art Project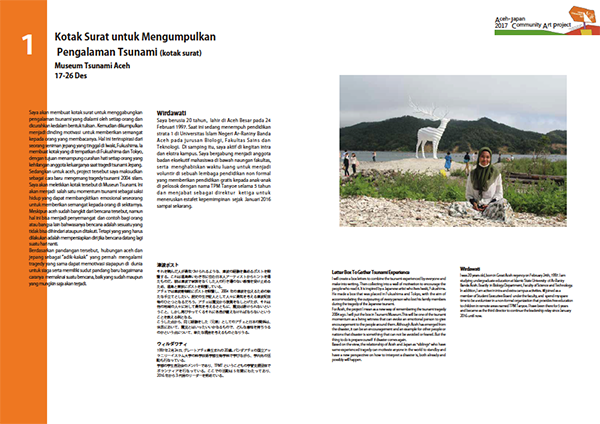 Guidebook
---
Nov, 2017
Flyer of Aceh-Japan Community Art Project

Indonesian language
Japanese
---
Oct, 2017
We start Facebook page, Instagram and Twitter
Please follow us!
Facebook Page
Instagram
Twitter
---
Sep 22, 2017
We won the grants by Toyota Foundation
We won the grants from 328 proposals. We want to say thank you to the foundation and the people help us.
Toyota Foundation
Our proposal
---
August, 2017
4 Staffs of the Aceh Community Art Consortium Visited Tohoku
Four members of the Aceh Community Art Consortium visited Tohoku. In Tohoku, they participated many activities namely, visiting to several elementary schools, residences of tsunami victims, social services, local festivals, and others within the scope of the reconstruction after the disaster.
Blog: the Way to the Community Art
---
July 30, 2017
The Initial Meeting of the Implementation of Project Planned by the Aceh-Japan Community Art Projec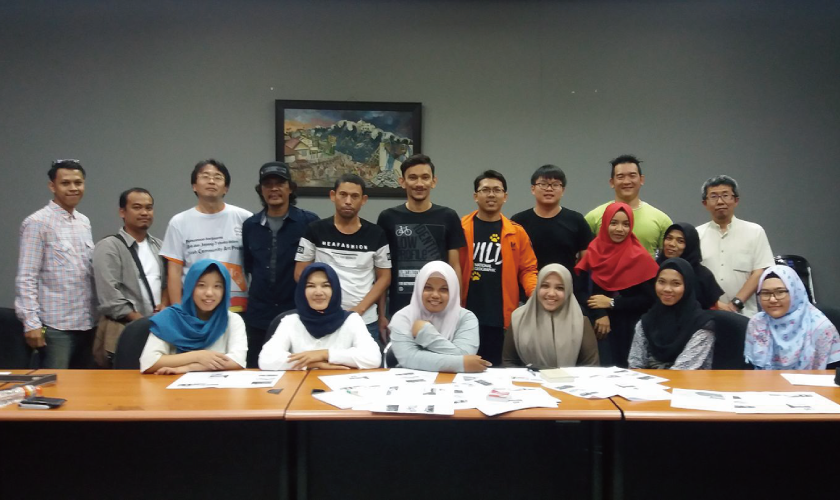 Located in the Museum of Tsunami in Banda Aceh, this meeting is held in order to establish the Aceh Community Art Consortium and to discuss the preparation and plan for the upcoming projects in December 2017.
flyer of kick-off meeting